Table of Contents
Using Help

Contacting ASSET InterTech

Introduction to SourcePoint

SourcePoint Environment

SourcePoint Overview

How To -- SourcePoint Environment

Breakpoints Window

Breakpoints Window Overview

How To - Breakpoints

Code Window

Command Window

Confidence Tests Window

Confidence Tests Window Overview

Descriptors Tables Window

Descriptors Tables Window Overview

How To - Descriptors

Devices Window

Devices Window Overview

How To - Devices Window

Log Window

Memory Window

Memory Window Overview

How To - Memory Window

Page Translation Window

Page Translation Windows Overview

PCI Devices Window

PCI Devices Window Overview

How To - PCI Devices Window

Registers Window

Registers Window Overview

How To - Registers

Symbols Windows

Symbols Window Overview

How To - Symbols Window

Viewpoint Window

Viewpoint Window Overview

Watch Window

Watch Window Overview

How To - Watch Window

Technical Notes

SourcePoint Command Language

Overview

Commands and Control Variables
How to Save Code Window Contents
Go to File|Save As on the menu bar.

The Save As dialog displays.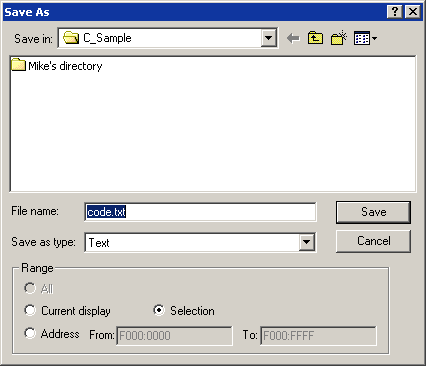 Save As dialog box
Specify File name and the Range of addresses to save.
Note: Specifying a large range may take a significant amount of time saving to a file depending on how large the range is.