Intel® has announced the new family of 8th Gen Intel Core desktop processors, available for purchase beginning October 5, 2017. ASSET's SourcePoint has supported the 8th Gen (codenamed Coffee Lake) since earliest silicon.
The new desktop processor family is built for gamers, content creators and overclockers who require premium performance, but whom aren't ready to make the pricier leap to the high-end desktop (HEDT) Skylake-X family (Core i9-7900X, i7-7820X and i7-7800X) for heavily-threaded workloads.
The top end of the 8th Gen family, the i7-8700K, is capable of 4.7GHz maximum single-core turbo frequency, the highest frequency ever from Intel, thanks to their Turbo Boost Technology 2.0. Editor's Note: Unlike the "favored cores" Turbo Boost Max Technology 3.0 on the X-series, each and every core needs to be capable of hitting these published clockspeeds for this to kick in.
Intel's product selection is getting broader and deeper, thanks in part from competition from the AMD Ryzen family. This is great for the consumer, as it offers more choice. And, of course, the technology is getting more and more complex, as more features are being stuffed into tighter real estate within the silicon. Fortunately, all Intel Core platform ODMs use the ASSET SourcePoint JTAG hardware-assisted debugger to bring their products to market.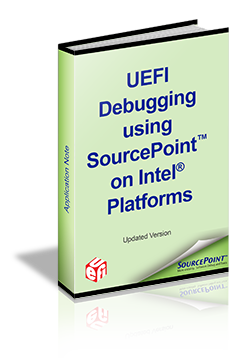 OEMs like to have a regular cadence to their product releases, and another release at the 14nm process node keeps everyone happy.
The press release on the support for Coffee Lake is here. For more technical information on SourcePoint, I would recommend this eBook: UEFI Framework Debugging with SourcePoint.