Part 2 of 2
This is the second in a two-part blog on 64-bit ARM and the server marketspace. If you missed the first blog, read it here.
When ARM introduced its first 64-bit processing core, ARMv8, several years ago, many experts wondered whether it would replicate its disruption of embedded applications by doing the same in the server market, which has long been dominated by the Intel architecture. Since ARMv8s introduction, server system suppliers have made several significant strategic decisions with regards to ARM IP. The first such supplier was Applied Micro Circuits Corporation.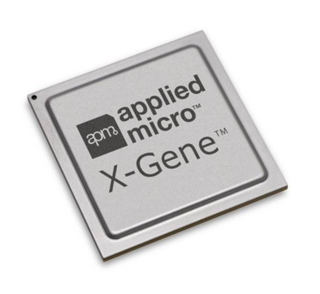 AppliedMicro® introduced its X-Gene® product line (Figure 1) in October 2011. The X-Gene demonstrates the paradigm shift from generic, monolithic processors that dominated previously to applying an application-specific SoC into the server market. Many industry experts have hypothesized that the architecture of traditional server computing platforms would eventually make the same migration that had happened in the embedded system industry. This proved to be the case when micro servers emerged as the next logical step away from the large, general-purpose server architectures that had dominated the server market since its inception. Microservers offered a low-power, less compute-intensive alternative to the large servers that required specific, compute-intensive software packages. Simply put, microservers move a lot of bits around the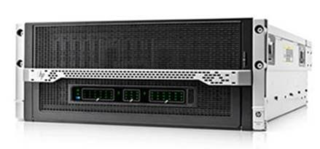 Internet very quickly and with a low overall operating cost. Some suppliers to the server marketplace have chosen to offer scaled processor designs that can be deployed in both microservers and big-iron servers. Public announcements targeting the server market have been made by AMD, Broadcom, Cavium, Marvell, Qualcomm and others. The first ARMv8 server to ship was the Hewlett-Packard Moonshot (ProLiant m400 Server Cartridge). HP promotes the Moonshot (Figure 2) as a high-density, scalable design with energy efficiency, performance and the ARM ecosystem.
To date, the microserver market has not developed as rapidly as analysts predicted early in its emergence. Some observers cite the demise of Calxeda, an early entrant into the ARM-based server market, as a telltale sign that the microserver market would not realize its forecasted potential. Possibly supporting this theory and reflecting the dominance Intel had established in the server market, both Samsung and NVIDIA appear to have abandoned their push into servers based on ARM.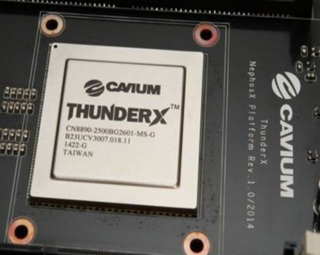 Recent news from Cavium highlights its ThunderX™ architecture (Figure 3). In early March 2015 at the Mobile World Congress, Cavium showcased the 48-core version of the ThunderX with full virtualization support in a radio access network (RAN) application. Other announcements during the same timeframe, included additional NVIDIA graphics processor unit (GPU) support for ThunderX. StackVelocity, a business unit of Jabil, and Cavium also announced at the Open Compute Project U.S. Summit that they would partner to deliver Open Compute Project (OCP) platforms based on the ThunderX line of processors. The announced objectives of these two companies was to provide best-in-class ARMv8-based server platforms to support diverse Hyperscale datacenter workloads. Another announcement was made jointly by Cavium and E4 Computer Engineering concerning a new ThunderX-based dense computing server product line. Two ARM-based reference platforms are available from Cavium, the ThunderX 1 and ThunderX 2.
AMD has plans for an Opteron A-Series ARMv8 offering. First out of the gate from AMD was the A1100 device, codenamed Seattle. The A1100 provides four or eight ARM Cortex A57 cores, up to 4 MB of shared Level 2 cache and 8 MB of shared Level 3 cache. Up to 128 GB of DDR3 or DDR4 ECC memory are also supported. AMD has also announced a microATX-based development platform consisting of a full functioning Server Base System Architecture (SBSA).
A critical piece of any new architecture is software support. Many independent software vendors (ISV) are contributing to the growing ARMv8 software base. Linaro Ltd., the open source collaborative engineering organization, is a key contributor. Industry membership in Linaro includes AMD, ARM, Texas Instruments, Cononical, Facebook, HP and Red Hat.
In 2011 software development first started in simulation using ARM Fast Models. With hardware development platforms now available like the ARM Juno development system, ISVs can now use hardware for development purposes. Linaro makes toolchains and software images available for ISVs to download. Hypervisor support in the server arena is critical. The Xen Project is an open source community that is working on various projects, including a robust hypervisor solution supporting ARMv8. Interestingly, the Xen virtualization work is being adopted in the automotive, mobile and embedded markets.
The introduction of a competing server processing architecture is a significant event. Although Intel's X86 processor architecture has dominated the server market for many years, ARM's benefits of low total cost of ownership, low power consumption, high performance and high integration has brought a lot of attention to ARM from suppliers that are building IT infrastructure systems.
Considering the evolution of the embedded market from one-choice monolithic processing solutions to added-value SoC-based designs, it is not difficult to imagine the same evolution for the server market. Industry observers have been making projections of the impact ARM will have on the server marketplace. While early projections were aggressive and simply based on ARM's advantages with the 'three Ps' (price, performance, power), most secondary projections pegged the market share for ARM-based servers at 20 percent by 2020. Others analysts said that ARM's share of market will be negligible over the next five years. As the leading suppliers of ARMv8-based servers continue to roll out their solutions, the picture will become clearer.
So, to return to our original question: will ARM disrupt the server marketplace? We'll have to wait to find out for sure, but we can say that the 64-bit ARMv8 is making inroads. Certainly the company's track record of success in the embedded industry would indicate that dismissing ARM as an emerging force in microservers would be a mistake.
As I mentioned earlier, ARM cores are in many chips across the industry. We've compiled a handy listing of ARM-based devices. View List here. Come back from time to time because we will update this list whenever another new ARM-based chip is introduced.