ASSET has been awarded the prestigious 2010 Innovation of the Year Award in the printed circuit board automated test equipment category by Frost & Sullivan. This distinguished award is a tremendous third-party validation of ASSET's embedded instrumentation strategy, and is based upon our drive to reduce test costs in the face of increasingly complex test challenges.
We've always felt that our software-driven platform—what we call ScanWorks—is a far cry from the large and expensive "big iron" automated test systems that have dominated the electronics industry for years. And we've watched as over the last several years more and more companies have migrated to a non-intrusive strategy for high-speed I/O validation and printed circuit board test. And it certainly seems that the pace of change has accelerated recently as new generations of silicon and board assemblies render the legacy probe-based and nails-based test solutions inapplicable. All this tells us we are on the right track. But it's always nice to also be recognized by an independent global organization like Frost & Sullivan, whose job it is to research and recognize best-in-class companies.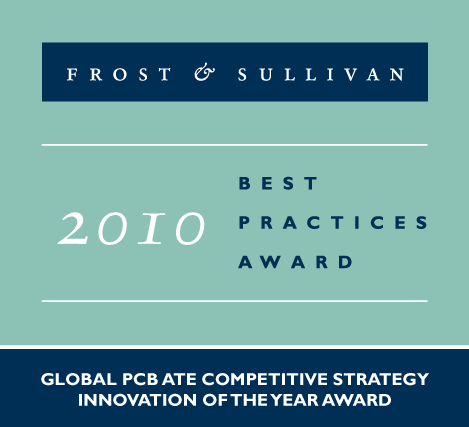 ASSET's Frost & Sullivan award for innovation in PCB test technologies
Frost & Sullivan noted that ASSET is the market leader in the boundary scan ATE market, with a market share of approximately 28% in 2009. Further, they noted that ASSET has complemented its boundary scan test portfolio with processor-controlled test and other embedded instrumentation-based technologies, such as Intel® Interconnect Built-In Self Test (IBIST). In addition, ASSET participates in and contributes to many of the industry standards bodies working on embedded instrumentation technologies, such as IEEE 1149.7 and IEEE P1687 (also known as IJTAG). Finally, Frost & Sullivan articulated their belief that ASSET's key performance driver—compared to other market participants—is the simplicity and ease of use of its products.
As always, we won't let this kind of external recognition go to our head. Our main goal is to continue to create solutions which delight our customers. But it's gratifying to see that others are noticing our strategy as well.